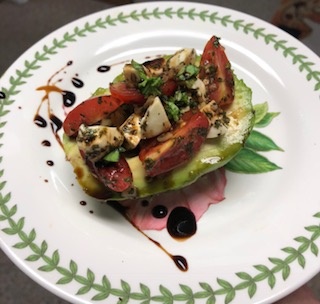 CAPRESE STUFFED AVOCADO Basil, Garlic & Pine Nut Pesto
Serves 4
½ cup grape or cherry tomatoes, quartered
4 ounces baby mozzarella balls
¼ cup Basil, Garlic & Pine Nut Pesto
¼ cup water
3 tablespoons EVOO
Salt & pepper to taste
2 ripe avocados, peeled, seeded and halved
2 tablespoons fresh basil leaves, chopped
2 tablespoons balsamic glaze reduction to drizzle, optional
1. In a small bowl, combine the Basil, Garlic & Pine Nut Pesto, water and EVOO, let stand for 15 minutes.
2. In a larger bowl, combine the tomatoes, mozzarella balls, salt and pepper to taste. Mix together with the Basil, Garlic & Pine Nut Pesto and toss well to evenly combine all of the flavors.
3. Arrange prepared avocado halves onto a plate. Spoon the Caprese filling into each avocado halve and drizzle with balsamic glaze. Top with chopped fresh basil. Serve immediately.
NOTE: Balsamic Reduction can be purchased or you can make it as below:
Add ½ cup Aged Balsamic Vinegar to a small pot. Bring to a boil, then reduce the heat and simmer for 10-15 minutes or until the sauce coats the back of a spoon.
Use immediately or store in a sealed container in the fridge.
Remember that the sauce will continue to thicken as it cools. If you accidentally over cook it and it starts to harden, you can reheat with a little bit of water to thin it back down.
The balsamic reduction will store for several weeks in the refrigerator in a sealed container.