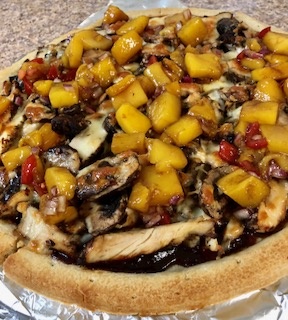 JERK CHICKEN PIZZA (w) MANGO SALSA Jerk Seasoning
450⁰F Oven
14 ounces boneless, skinless chicken breast
1 tablespoon Jerk Seasoning
1 tablespoon EVOO
½ cup fresh Portabella mushrooms, sliced
½ cup BBQ sauce, sweet or spicy
1 12 inch pre-baked pizza crust
¾ cup pepper jack cheese, shredded
Salsa:
1 cup ripe mango, diced
2 tablespoons red onion, diced
1 tablespoon ripe tomato, diced
1 tablespoon EVOO
1 teaspoon Aged Balsamic Vinegar

1. To prepare Toppings: Coat chicken with Jerk Seasoning. Heat one tablespoon EVOO in a sauté pan; sear chicken for 2 to 3 minutes on each side until fully cooked. Remove chicken from pan, add mushrooms to pan and sauté for 1 minute, drain liquid from pan. Slice chicken into thin strips.
2. To assemble Pizza: Spoon BBQ sauce over crust. Top with mushrooms and chicken. Sprinkle with cheese on top. Bake 7 to 8 minutes or until the crust is brown and cheese is golden and bubbly.
3. To prepare Salsa: In a small bowl, combine and thoroughly mix all ingredients. Garnish Pizza with Mango Salsa immediately.