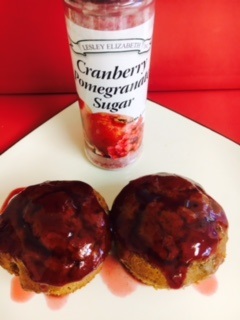 Cranberry-Zucchini Muffins with Cranberry Pomegranate Glaze Cranberry Pomegranate Sugar
Yield 12-15 muffins
1 ¾ cups flour
½ teaspoon baking powder
½ teaspoon baking soda
½ teaspoon cinnamon
¼ teaspoon salt
2 eggs
½ cup sugar
½ cup vegetable oil
½ teaspoon vanilla
1 cup zucchini, finely shredded
½ cup cranberries, whole
1 cup Cranberry Pomegranate Sugar
½ cup water
1. Preheat oven to 375⁰ F.
2. In a large mixing bowl combine flour, baking powder, baking soda, cinnamon and salt.
3. In a separate bowl mix beat together eggs, ½ cup white granulated sugar & ½ cup mango tangerine sugar, vegetable oil, vanilla. After combine fold in zucchini.
4. Slowly add the dry ingredients to the wet ingredients. Once combined fold in cranberries and stir until just mixed.
5. Spoon the batter evenly into 12 muffin cups. Bake for 25-30 minutes and allow to cool.
For glaze: Combine other ½ cup Cranberry Pomegranate Sugar and water in a small sauce pan. Simmer on low heat until it begins to thicken. Take off heat and let cool. Dip the muffins into the glaze or drizzle over the top.