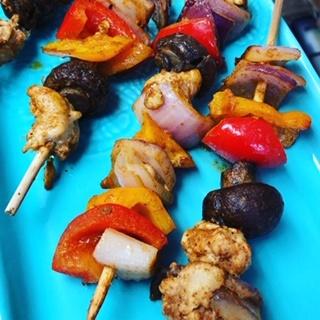 CHICKEN & VEGETABLE SKEWERS
For Skewers
1 LB chicken breasts, diced into bit size pieces
1 medium green bell pepper, largely cut
1 medium red bell pepper, largely cut
1 red onion, largely cut
1 container whole mini portabella mushrooms
For Tandoori Masala
½ cup Coconut Cream
2 Tbsp. Tandoori Seasoning
2 Tbsp. fresh lemon juice
2 Tbsp. Avocado Oil
1. Soak bamboo skewers in water for at least 30 minutes, to prevent them from burning in the oven.
2. Combine coconut cream, Tandoori Seasoning, and lemon juice. Set aside.
3. Largely chop chicken, bell peppers and red onion into bit size piece, all roughly the same size.
4. In a large mixing bowl combine marinade, chicken and vegetables. Place in the refrigerator and allow to marinade for at least 1-2 hours.
5. Preheat the oven to 400 deg. F and place a grilling rack over a rimmed backing sheet.
6. Prepare the skewers and place on the grilling rack, leaving 2-3 inches of space between each one.
7. Bake for 10-15 minutes or until fully cooked. This time may need to be adjusted depending on the size of your chicken and vegetables. To ensure chicken is fully cooked internal temperature must be 165 deg. F
8. Remove from oven, serve hot with pita bread, tortillas or rice.
**This recipe can be made with any kind of meat and vegetables**