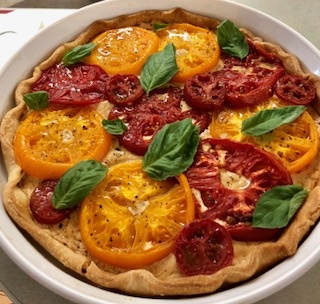 TOMATO TART Tandoori Seasoning
Serves 6 to 8
425⁰F oven
1 refrigerated pie crust
1 ¾ pounds heirloom tomatoes
5 ounces softened goat cheese
5 ounces softened mascarpone
¼ cup finely grated Parmesan
2 teaspoons Tandoori Seasoning, or more
Salt, to taste
Freshly ground black pepper, to taste
Fresh basil leaves.
1 tablespoon EVOO
1. Fit pie crust into a 9 inch removable bottom tart pan. Prick bottom with a fork. Place a 13 inch square piece of parchment over dough; fill with pie weights or dried beans. Bake for 20 minutes or until bottom is golden and set. Cool on wire rack.
2. While crust cools, cover a baking sheet with several layers of paper towels. Slice 1 ¾ pounds of firm heirloom tomatoes ¼ inch thick. Arrange tomato slices in a single layer. Sprinkle lightly with salt. Let stand 30 minutes, turning halfway through. Pat tomatoes dry, removing any large clumps of seeds.
3. In a medium bowl, combine goat cheese, mascarpone, grated Parmesan, 2 or more teaspoons Tandoori Seasoning, salt and pepper to taste. Spread in bottom of cooled tart crust.
4. Arrange tomatoes over filling, over lapping. Sprinkle with salt and pepper. Bake 20 minutes, shielding edges of tart with foil. Cool 15 minutes. Remove from tart pan. Cool completely on a wire rack. Drizzle with EVOO and garnish with fresh basil leaves.