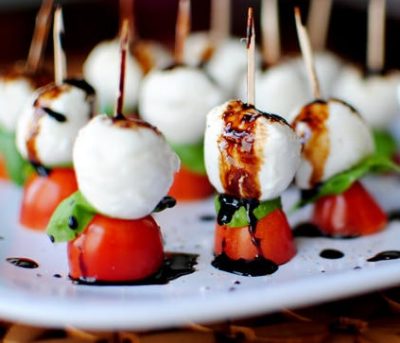 TOMATO & MOZZARELLA SKEWERS Aged Balsamic Vinegar
Makes 26 appetizers
1 pint grape tomatoes (cut in half)
⅛ cup Rosemary, Garlic & Herb Oil
4 ounces fresh mozzarella
1 teaspoon Aged Balsamic Vinegar
Fresh basil leaves
1. In a small bowl whisk together vinegar & oil, set aside.
2. On toothpicks or small skewers alternate tomato, basil, mozzarella, and tomato.
3. Place skewers in a shallow serving dish and pour oil mixture over top, let marinade about 15 to 20 minutes.
Note: This can be made with any flavor of our oils, omit the vinegar if the oil you choose has already has vinegar in it.