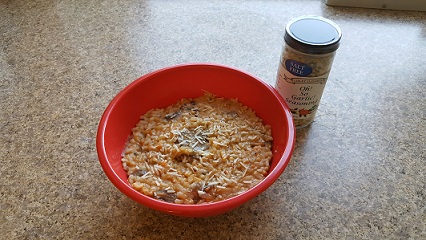 SWEET POTATO MUSHROOM RISOTTO Oh! So Garlic!
Serves 6
1 pound sweet potatoes, roasted & peeled
2 tablespoons EVOO
3 cups thinly sliced shitake or portabella mushrooms
1 cup finely chopped yellow onion
4 tablespoons Oh! so Garlic! Seasoning
1 ½ cups Arborio rice
5 cups chicken stock, divided
1 teaspoon salt, divided
¾ teaspoon freshly ground black pepper
¼ cup mascarpone cheese0
¼ cup grated Parmesan cheese
2 tablespoons chopped fresh parsley
½ teaspoon fresh squeezed lemon juice
1. Place sweet potatoes in a food processor; process until almost smooth.
2. Heat EVOO in a Dutch oven over medium high heat. Add mushrooms, onion and Oh! So Garlic! Seasoning; sauté 5 minutes. Add rice; cook 1 minute, stirring constantly. Stir in 1 cup sweet potatoes, 2 cups stock and ½ teaspoon salt; bring to a boil (reserve remaining sweet potatoes). Simmer 8 minutes or until liquid is reduced by half, stirring frequently.
3. Add remaining 3 cups stock and ½ teaspoon salt; cook 25 minutes or until rice is tender, stirring occasionally. Remove pan from heat; stir in reserved sweet potatoes, black pepper, mascarpone and lemon juice.
4. Divide evenly into 6 shallow bowls; sprinkle with parsley and Parmesan cheese.