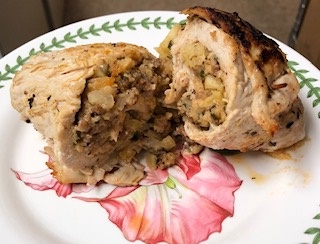 STUFFED TURKEY BREAST Wicked Good Rub
Makes 6 servings
3 pounds fresh turkey breast, boned
¾ cup bulk Italian sausage, crumbled
2 tablespoons butter
¼ cup onions, chopped
¼ cup celery, diced
½ cup Granny Smith apples, diced
¼ cup fresh parsley, chopped
¼ apple cider
4 ounces aged cheddar cheese
¼ cup Panko breadcrumbs, plain
3 tablespoons Wicked Good Rub, divided
Salt & pepper to taste
1. Preheat oven to 375° F.
2. Remove skin from turkey breast in one piece and reserve. Slice the turkey breast horizontally. With a meat mallet, flatten breast to ¾ inch thickness to increase the surface and make stuffing easier.
3. In a medium skillet over medium heat, brown crumbled sausage, set aside.
4. In a medium skillet over medium heat, melt butter. Add onions, celery, and apples cooking for 4 minutes. Add parsley, cider, Panko breadcrumbs, cheese, 2 tablespoons Wicked Good Rub, and sausage. Stir to combine.
5. Spread stuffing ½ inch thick over the turkey breast. Roll turkey breast, and wrap with reserved skin, secure with kitchen twine. Rub breast with a small amount of oil and remaining Wicked Good Rub.
6. Roast in preheated oven for 80 minutes or until internal temperature reaches 170°F. Let rest for 15 minutes, remove twine, and slice.