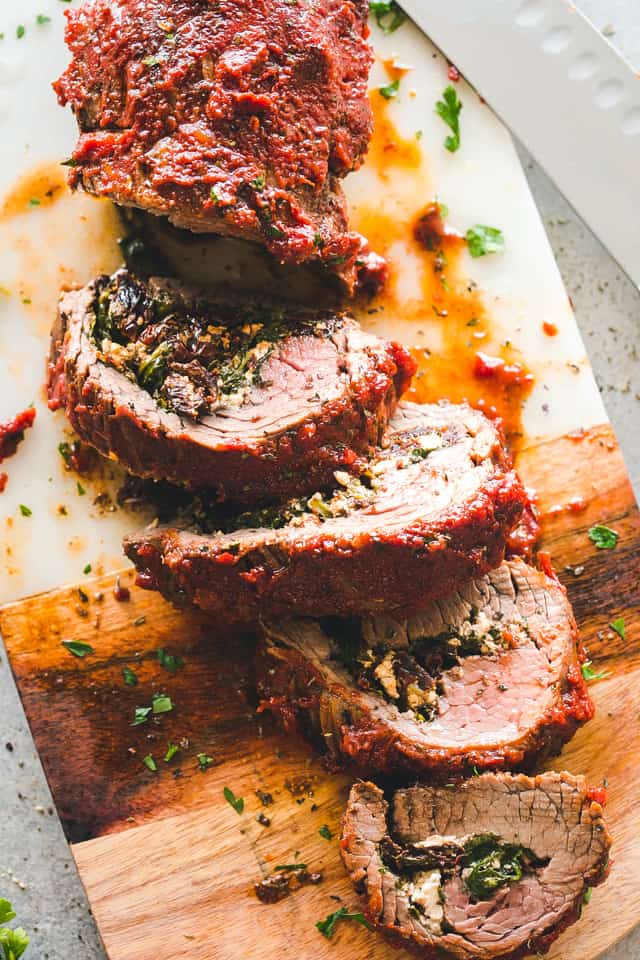 STUFFED FLANK STEAK Sundried Tomato Pesto
Serves 6
½ jar Sundried Tomato Seasoning & Pesto
⅓ cup EVOO
½ cup water
½ cup Parmesan cheese
¼ cup minced fresh parsley
1 tablespoon prepared horseradish
1 teaspoon fresh ground pepper
24 ounces beef flank steak
2 teaspoons canola oil
1. Prepare Sundried Tomato Pesto according to package directions, omitting the Parmesan cheese. Let stand for 15 minutes and then stir in ½ cup Parmesan.
2. Cut steak horizontally from a long side to within ½ inch of opposite side. Open meat so it lies flat; cover with plastic wrap. Flatten to ¼ inch thickness. Remove plastic; spoon Sundried Tomato Pesto mixture over meat to within ½ inch of edges. Roll up tightly, jelly-roll style, starting with a long side. Tie meat with kitchen string.
3. Line a shallow roasting pan with heavy-duty foil; coat the foil with cooking spray. In a large nonstick skillet brown meat on all sides in canola oil. Place in prepared pan.
4. Bake , uncovered at 400°F for 30 to 40 minutes or until meat reaches desired doneness (for medium-rare, a meat thermometer should read 145°F; medium, 160°F ; well-done 170°F). Let stand for 10-15 minutes. Remove string and cut into slices.