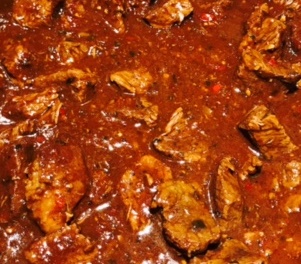 BEEF IN WINE SAUCE Smokey-Sweet Barbeque Seasoning
Serves 5 to 6
4 slices bacon, chopped
2 ½ pounds beef chuck roast cut into 1 ½ inch cubes
3 tablespoons all purpose flour
1 tablespoon EVOO
4 tablespoons Smokey-Sweet Barbeque Seasoning
1 ½ cups low salt chicken broth
½ cup dry red wine
¼ cup chopped parsley
1. Preheat oven to 325˚F. In a heavy large pot cook the bacon until the fat is rendered and the bacon is crisp. Remove the bacon and set aside.
2. Mix flour and Smokey-Sweet Barbeque Seasoning in a large re-closeable plastic bag, toss meat until coated. Cook meat in a skillet over medium high heat; 2 or 3 batches at a time until lightly browned, about 4 minutes.
3. Return meat to skillet; add the oil, chicken broth and the red wine. Bring to a simmer, remove from the heat, cover and place in the oven. Braise for 1 hour. Remove the cover and cook, uncovered until the sauce begins to thicken, about 45 minutes. Check to see if the meat is tender, if not, replace cover, and cook for an additional 15 to 30 minutes.
4. To serve, transfer to a serving bowl, add the bacon and chopped parsley.