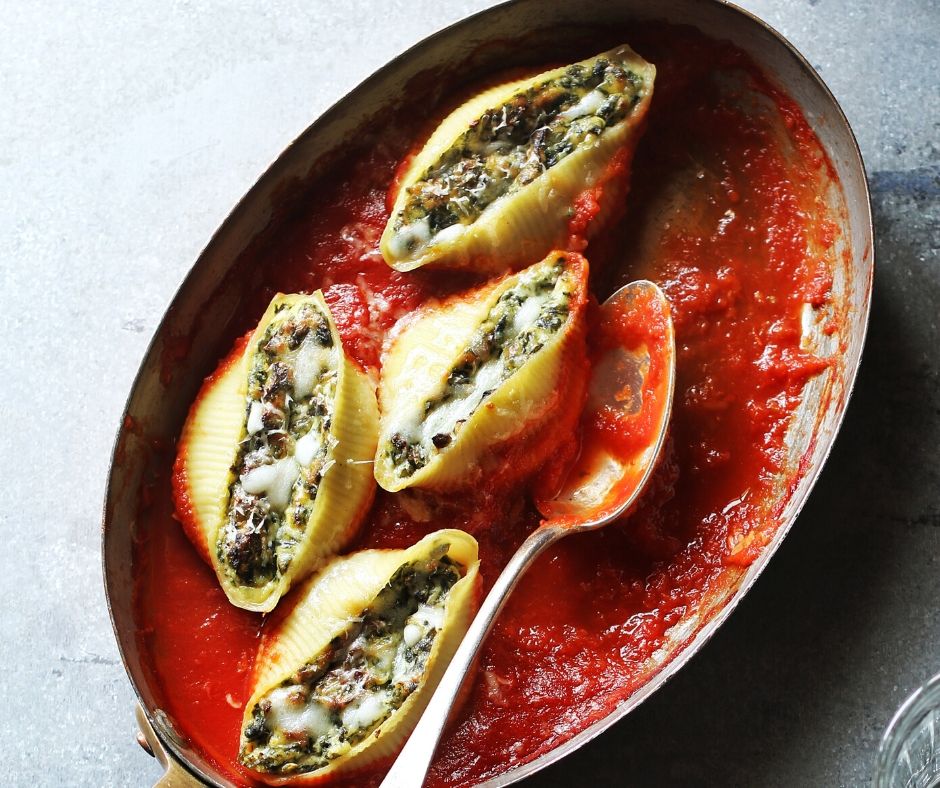 BEEF STUFFED SHELLS Sundried Tomato Seasoning & Pesto
Serves 10
20 uncooked jumbo pasta shells
1 pound lean ground beef or ground turkey
1 large onion, chopped
1 medium green pepper, chopped
1 ¼ cups ricotta cheese
1 ½ cups (6 ounces) shredded Italian cheese blend, divided
¼ cup grated Parmesan cheese
1 egg, lightly beaten
1 can (14 ½ ounces) Italian diced tomatoes, do not drain
1 can (8 ounces) tomato sauce
4 tablespoons Sundried Tomato Seasoning &Pesto
¼ cup water
3 tablespoons EVOO
1. Cook pasta according to package directions to al dente; drain and rinse in cold water, set aside to cool.
2. In a small bowl; combine Sundried Tomato Seasoning & Pesto, water and oil; set aside.
3. In a large skillet, cook ground meat, onion and green pepper over medium heat until meat is no longer pick; drain.
4. In a large bowl, combine ricotta cheese, 1 cup Italian cheese blend, Parmesan cheese, prepared pesto mix, egg and half of the meat mixture.
5. In a small bowl, combine tomatoes, and tomato sauce. Spread ¾ cup into a 13 inch X 9 inch baking dish coated with cooking spray. Spoon Cheese mixture into pasta shells; place in baking dish. Combine remaining meat mixture and tomato mixture; spoon over shells. Sprinkle with remaining cheese. Cover and refrigerate overnight.
6. Remove dish from the refrigerator 30 minutes before baking. Cover and bake at 350˚F for 40 minutes. Uncover; bake 5 to 10 minutes longer or until cheese is melted.