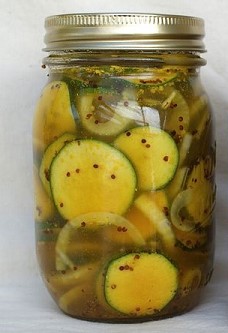 PICKLED SUMMER SQUASH
1/4 cup salt
2 1/2 pounds young yellow squash OR zucchini, sliced into rounds
1/4 cup Sweet Bell Pepper Seasoning OR Garden Vegetable Seasoning
2 small onions, thinly sliced
2 1/4 cups white sugar
2 cups distilled white vinegar
OR
1/4 cup Rosemary & Basil Seasoned Sea Salt
2 1/2 pounds young yellow squash OR zucchini, sliced into rounds
1 green bell pepper, seeded and sliced into strips
2 small onions, thinly sliced
2 1/4 cups white sugar
2 cups distilled white vinegar
1. In a large non-aluminum pot, combine the squash, bell pepper, and onions. Cover with salt, and let stand for 2 hours to release the liquids (salty liquid). Stir occasionally.
2. Just before the 2 hours are up, combine the sugar, vinegar, and spice blend in a saucepan. Bring to a boil. (Spice Brine)
3. Drain the salty liquid from the vegetables.
4. Pour the spice brine over the vegetables, and let stand for 2 more hours.
5. Bring to a boil once again, and simmer for about 5 minutes. Ladle into 1 pint sterile jars, filling with the liquid to within 1/4 inch of the top. Wipe rims with a clean towel, and run a thin spatula around the inside of the jar to remove air bubbles. Seal with lids and rings. Process for 10 minutes in a simmering water bath to seal completely.
*See current guidelines for canning before beginning.