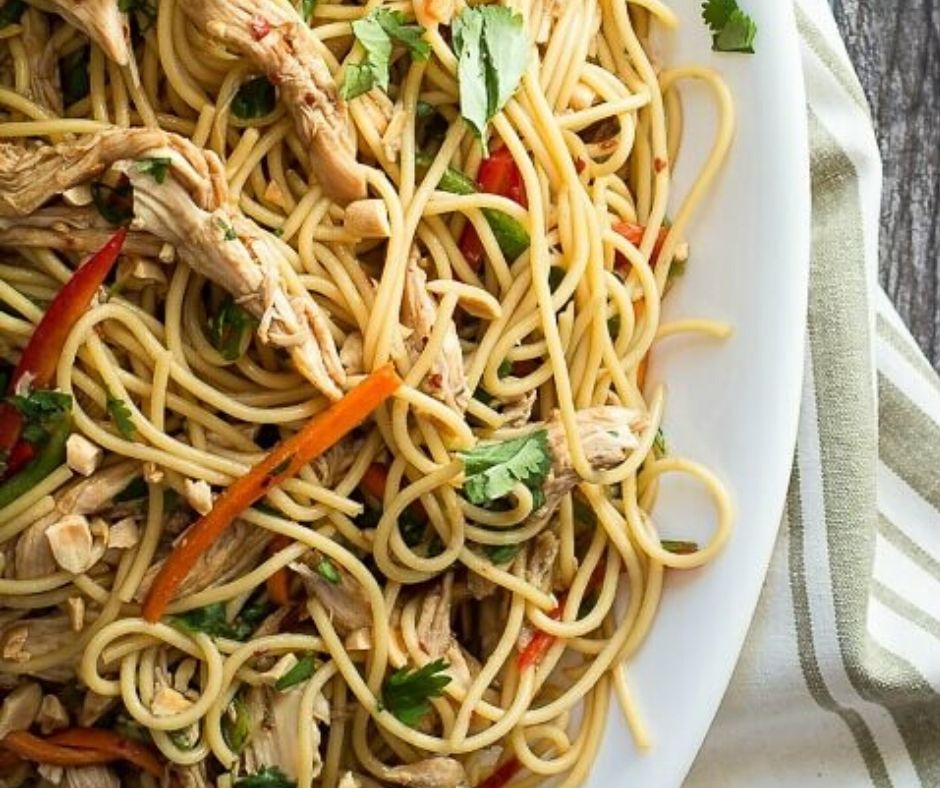 ASIAN CHICKEN PASTA SALAD Shallots, Scallions & Leeks – Sweet Bell Pepper – Avocado Oil
Serves 6 to 10
¾ cup fresh squeezed lime juice, about 3 limes
3 tablespoons Avocado Oil
3 tablespoons sesame oil
3 tablespoons soy sauce
2 tablespoons minced fresh gingerroot
2 tablespoons Shallots, Scallions & Leeks Seasoning
1 tablespoon sugar
1 ½ pounds boneless skinless chicken breasts
12 ounce uncooked angel hair pasta, broken
1 large sweet yellow pepper, chopped
¼ cup Sweet Bell Pepper Seasoning
1 medium cucumber, peeled & chopped
¼ cup minced fresh parsley
¼ teaspoon crushed red pepper flakes, optional
Salt & pepper to taste
1. Combine the first seven ingredients. Pour ¼ cup of the marinade into a re-sealable plastic bag, reserving the remainder. Add the chicken and turn it to coat. Refrigerate 30 minutes.
2. Drain the chicken, discard marinade. Broil chicken (4 inched from the heat) 5 to 7 minutes per side or until a thermometer reads 165⁰F.
3. Meanwhile, cook pasta according to package directions; drain and rinse in cold water. Combine the remaining ingredients with reserved marinade. Dice chicken. Add pasta and chicken to the vegetable mixture, toss to coat. Salt & Pepper to taste.
4. Refrigerate until time to serve.
NOTE: EVOO, Sunflower or Canola oil may be substituted for the Avocado Oil.