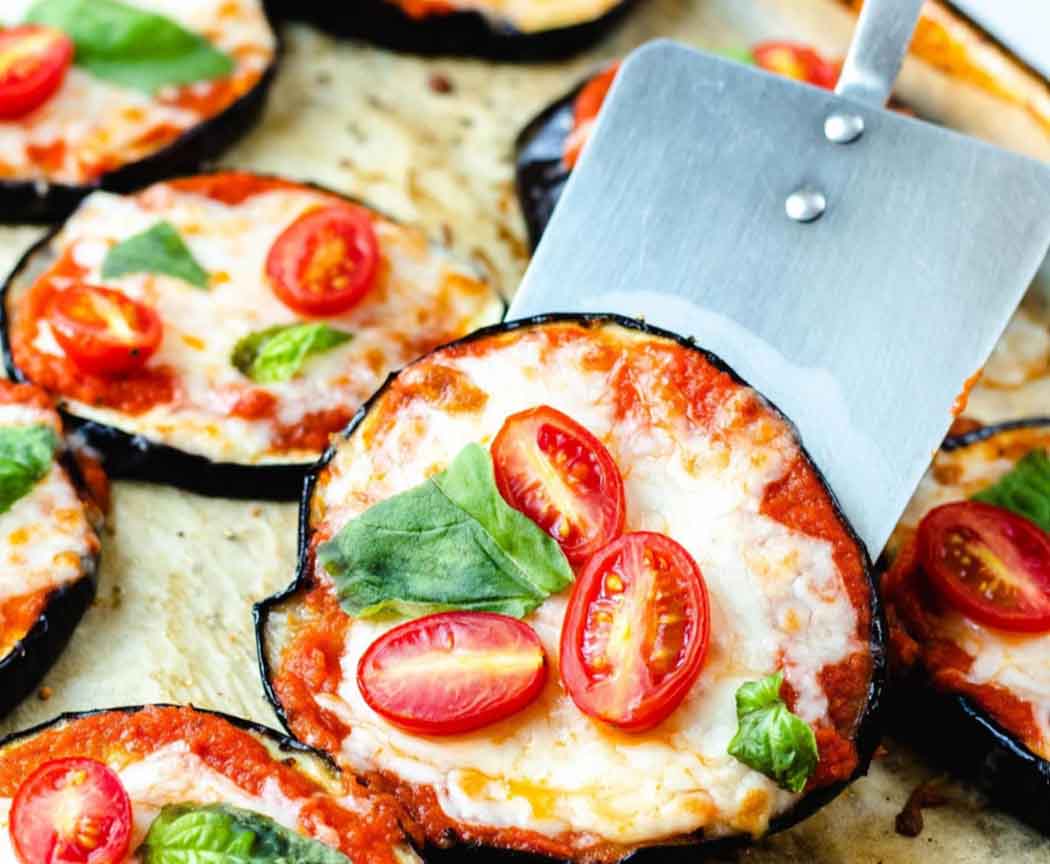 Another delicious Lesley Elizabeth recipe!
EGGPLANT PIZZAS Garlic, Basil & Balsamic
Serves 4
1 egg plant, about 16 ounces and 9 – 10 inches long
1 tablespoon salt or more, for drawing water out of eggplant
¼ cup Garlic, Basil & Balsamic Oil
10 large basil leaves, cut into thin strips,
⅔ to 1 cup Italian blend shredded cheese
Sauce Ingredients:
1 tablespoon Garlic, Basil & Balsamic Oil
3 cups petite diced tomatoes
2 large basil leaves, chopped
Cut off both ends of the eggplant; then cut into ¾ inch thick slices. Put the eggplant pieces on a double layer of paper towels and sprinkle both sides generously with salt. Let the eggplant sit with the salt on it for about 30 minutes to draw out the liquid.

While the eggplant sits, make the sauce. Combine all sauce ingredients and simmer until the sauce thickens, breaking up the tomatoes with a fork as it cooks.

After the eggplant has sat for 30 minutes, wipe it dry with paper towels (this also removes most of the salt). Rub a cookie sheet or baking dish with a little oil, lay eggplant slices on it. Vigorously shake the bottle of Garlic, Basil & Balsamic Oil to combine all the herbs and spices. Pour about a ¼ cup of the oil into a small dish and brush the tops of the eggplant slices, (be sure you get some of the herbs on each slice). Roast the eggplant at 375˚F for about 25 minutes. Do not overcook, you want them to keep their shape and not get too soft.

After 25 minutes or when the eggplant is done, remove eggplant from the oven and turn oven setting to broil. Spread a few tablespoons of sauce on the top of each eggplant slice, sprinkle with basil slices and top with a generous amount of cheese. Put pizzas under the broiler for a few minutes until the cheese is melted and slightly browned. Serve hot.