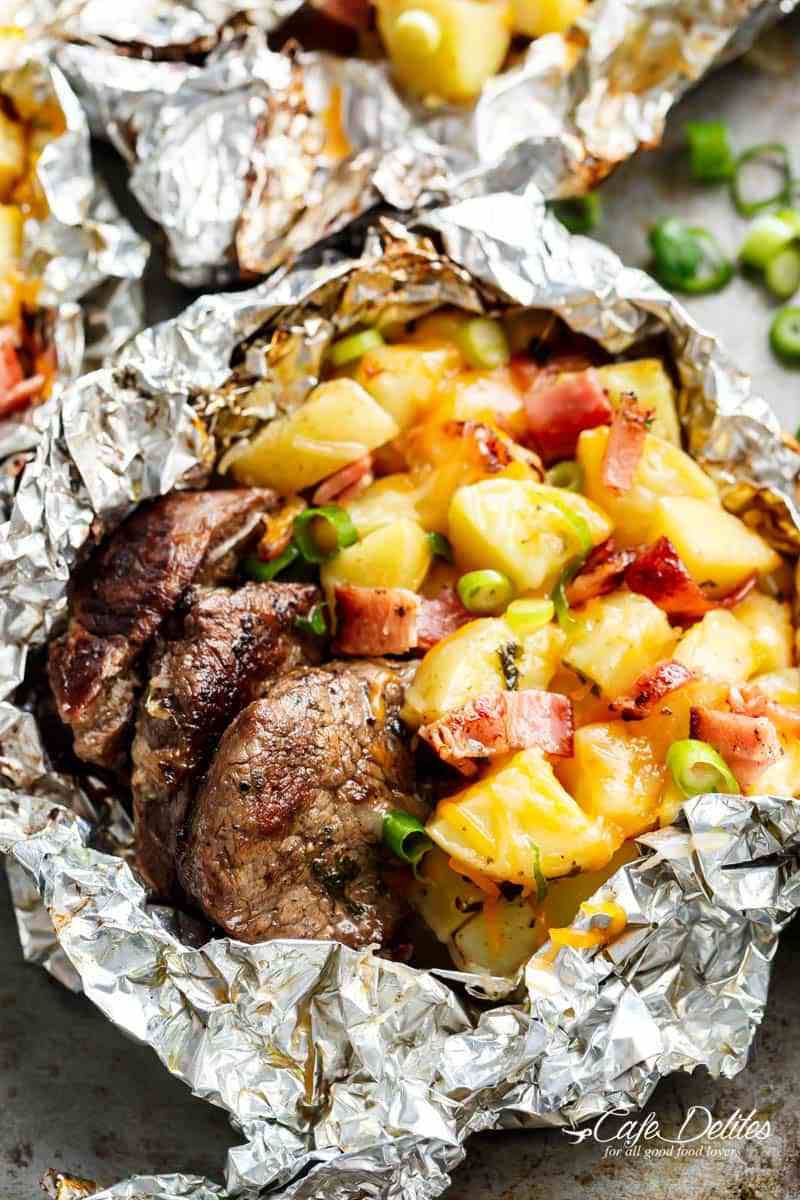 Detroit Steak & Cheesy Potato Foil Packs Steak Seasoning
Makes 4
½ cup butter
2 table spoons minced garlic
2 pounds eye of round steak (any cut will work or any meat/vegan/vegetarian substitute)
26 ounces baby Yukon potatoes, washed & cut into 1in pieces
¼ cup onion, diced
½ cup cooked bacon, diced
½ cup green onion, diced
2 tablespoon Steak Seasoning
¼ cup shredded cheese (any blend)
1. Preheat grill to medium heat.
2. Prepare garlic butter by placing butter and minced garlic into a microwave safe bowl and head for 30 seconds or until fully melted, stir to combine.
3. Season both sides of the steak with 1 tablespoon Detroit Steak Rub
4. Slice the meat into 2in slices for well done or 4in slices for medium-rare. The bigger the pieces the more rare they will be.
5. In a medium bowl combine potatoes, onions, remaining 1 tablespoon of Detroit Steak Rub and half of the garlic butter.
6. Tear 4-6 pieces of heavy duty foil (approx. 15-inches).
7. Divide potatoes mixture and steak between the foil sheets, placing the steak on the top. Drizzling the remaining garlic butter of the top of the steak.
8. Fold the foil ends together to create a pouch making sure it is sealed tightly to prevent any juices from escaping.
9. Place the foil packs on the HOT grill, cover and cook for 7-10 minutes on one side. Flip and cook on the other side for another 5-7 minutes or until potatoes are cook through.
10. Carefully open the packs and sprinkle the bacon pieces and shredded cheese. Place back on the grill for another 2-3 minutes or until the cheese is melted.
11. Garnish with green onion.