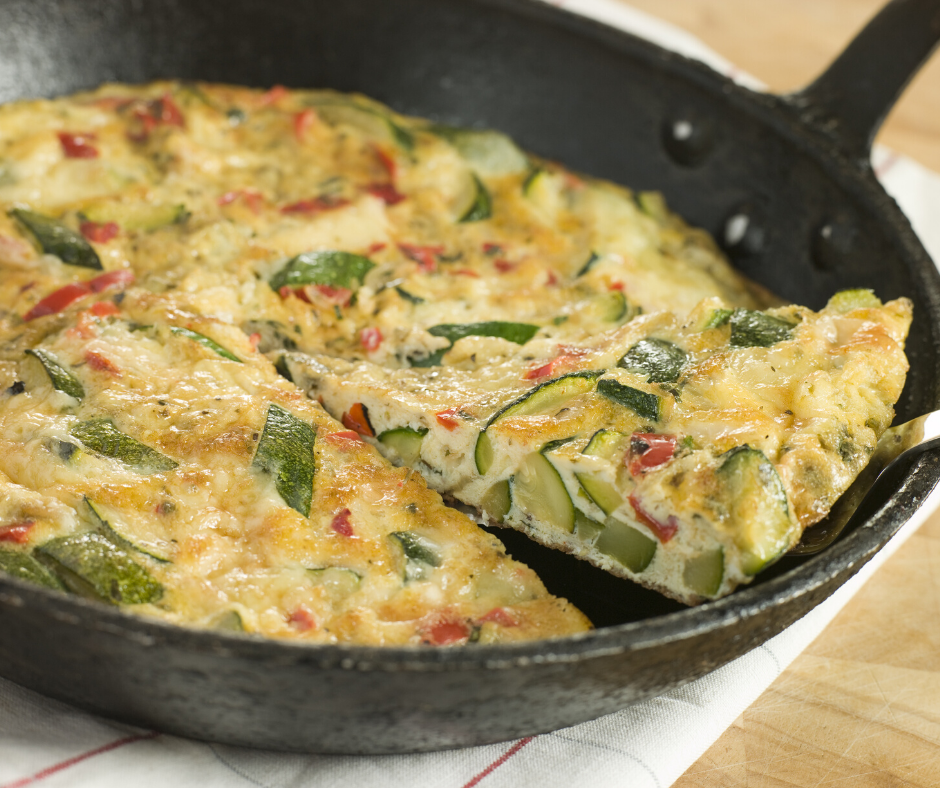 VEGETABLE FRITTATA Rosemary & Garlic Seasoning
Serves 6
3 large eggs, plus 3 egg whites
¾ cup cottage cheese
4 ounces smoked Gouda cheese, shredded (about 1 cup)
2 tablespoons Rosemary & Garlic Seasoning
2 tablespoons EVOO
1 medium onion, chopped
Kosher salt
16 ounces frozen mixed vegetables (broccoli, cauliflower and carrots), thawed
2 tablespoons grated Parmesan cheese
1 scant teaspoon paprika
1. Position a rack in the upper third of the oven and preheat to 450⁰F.
2. Whisk the whole eggs and whites in a large bowl. Add the cottage cheese and whisk until almost smooth. Whisk in the Gouda cheese and 1 tablespoon Rosemary & Garlic Seasoning, set aside.
3. In a 10 inch non-stick ovenproof skillet, cook the onion, EVOO, salt and remaining tablespoon of Rosemary & Garlic Seasoning
over medium high heat about 2 minutes. Add the vegetables, and cook until just tender, about 5 minutes.
4. Reduce heat to medium. Spread the egg mixture evenly in the pan. Cook, undisturbed, until a thin crust forms on the bottom about 2 minutes. Run a rubber spatula around the edge to release the egg from the pan. Continue cooking until the bottom is golden, 2 to 3 more minutes.
5. Sprinkle the top with the Parmesan cheese and paprika, transfer to the oven and bake until just set, 5 to 7 minutes. Remove from the oven, cover and let sit 5 to 7 minutes. Cut into wedges and serve.