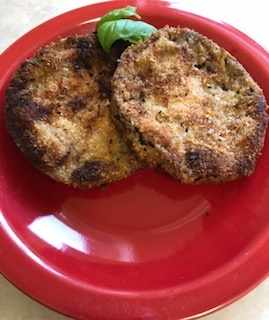 BREADED EGG PLANT Traditional Italian Seasoning
Serves 6
1 large eggplant, sliced ¼ inch thick
1 tablespoon kosher slat
2 eggs, lightly beaten, with a small amount of milk added
2 cups Italian breadcrumbs
2 cups flour
¼ cup shredded Parmesan Cheese
2 teaspoons Traditional Italian Seasoning
1 ½ cups EVOO
1. Preheat oven to 375.
2. Place sliced eggplant on sheets of paper towel, sprinkle with salt and allow to sit for 15 minutes. Rinse with cold water and place on a double layer of paper towels and pat dry.
3. In a shallow bowl mix breadcrumbs with the Parmesan cheese and Traditional Italian Seasoning. In two other bowls, place the flour in one and the lightly beaten egg and milk mixture in the other.
4. Pour the EVOO in a large, deep skillet over medium-high heat. Add a pinch of breadcrumbs to see if the oil is ready – if they begin bubbling and sizzling the oil is ready.
5. Coat the eggplant in the flour, dip it in the egg and then in the prepared bread crumbs.
6. Add the egg plant to the hot oil a few slices at a time, do not over crowd. Cook until golden brown, about 2 minutes on each side.
7. Place on a baking sheet and cover with foil; bake for about 20 minutes. Remove foil and bake an additional 15 minutes.