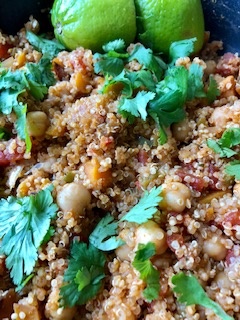 TANDOORI QUINOA
Serves 4
1 ½ tablespoons EVOO
1 cup diced sweet potatoes
½ medium onion, finely chopped
2 cloves garlic, minced
1 jalapeno pepper, seeded and minced
3 tablespoons Tandoori Seasoning
1 cup uncooked quinoa, rinsed
1 ¼ cups vegetable broth
1 ½ cups cooked chickpeas
14 ounces petite diced tomatoes
1 teaspoon brown sugar
Salt and pepper to taste
Juice of one fresh lime
chopped fresh cilantro, for serving
1. In a large skillet, heat the EVOO over medium high heat. Add the sweet potatoes and stir.
2. Cook the sweet potatoes, stirring frequently for 6 to 8 minutes or until softened significantly.
3. Add the onion and cook for another 2 to 3 minutes, stirring frequently, until softened. Add the garlic and jalapeno pepper and cook for another minute until fragrant. Finally, stir in the Tandoori Seasoning and mix well.
4. Add the quinoa, vegetable broth, chickpeas, tomatoes and sugar, stir to combine. Bring the mixture to a boil, then reduce to a simmer and cover, stirring occasionally.
5. Cook until the quinoa and sweet potatoes are cooked through, about 20 minutes. If there seems too much liquid, simmer uncovered for a few minutes to evaporate the excess. If the liquid runs out before the quinoa is done, add a little water or more broth and continue simmering.
6. Add salt and pepper to taste and serve with a squeeze of fresh lime juice and a generous sprinkle of chopped cilantro.