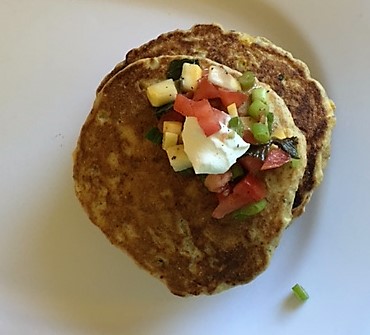 SPICY LATKES Jalapeno Cilantro Seasoning
Makes 12
6 tablespoons sour cream
½ teaspoon Chipotle Seasoning
½ teaspoon fresh grated lime rind
1 teaspoon fresh lime juice
6 cup shredded baking potatoes
1 cup grated onion
6 tablespoons flour
4 tablespoons Jalapeno & Cilantro Seasoning
1 large egg
1 teaspoon ground cumin
½ teaspoon salt
¼ cup EVOO
1. Combine first four ingredients in a small bowl, stirring well. Refrigerate until ready to use.
2. Combine potato and onion in a colander. Drain 30 minutes, pressing occasionally with the back of a spoon until most of the moisture is drained.
3. Combine potato mixture, flour, egg and seasoning in a large bowl; toss well.
4. Heat a large skillet over medium high heat. Add 2 tablespoons oil to pan; swirl to coat. Spoon ¼ cup potato mixture loosely into a dry measuring cup. Pour mixture into pan; flatten slightly. Sauté 3 ½ minutes on each side or until golden brown and thoroughly cooked. Repeat process with remaining mixture.
5. Serve with sour cream mixture.