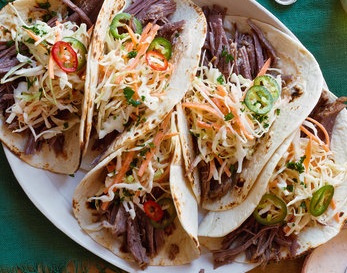 SHREDDED BEEF TACOS WITH JALAPENO SLAW Taco Seasoning
Slow Cooker Recipe
Makes 8 tacos
2 ½ to 3 pounds lean beef roast
1 tablespoon Wicked Good Salt
2 teaspoons cooking oil
1 ¼ cup mild salsa, (For a spicier flavor use medium salsa)
4 ounces canned diced green chilies
2 tablespoon fresh squeezed lime juice
3 tablespoons Adobo Seasoning
4 ounces red cabbage, thinly sliced and chopped
4 ounces green cabbage, thinly sliced and chopped
1 tablespoon Jalapeno & Cilantro Seasoning
2 tablespoons mayo
2 tablespoons sour cream
8 whole wheat tortillas, 6 inch size
2 avocados, peeled, pitted & diced
3 teaspoons lime juice
1. Trim roast to remove any fat or gristle and cut into several pieces. Rub the roast pieces with Wicked Good Seasoning. Heat cooking oil in a heavy frying pan and brown the meat well on all sides.
2. While the meat is browning, mix together the salsa, diced green chilies, 2 tablespoons lime juice and Taco Seasoning. Place browned meat into the slow cooker, pour the sauce over the meat and cook on low until the meat is tender and shreds apart easily, about 6 to 8 hours.
3. When meat is cooked and tender, it can be shredded right in the crock pot using two forks. Toss meat and sauce together and set slow cooker to warm setting while making the slaw.
4. Place chopped cabbage in a medium bowl. In a small bowl mix together the mayo; sour cream and Jalapeno & Cilantro Seasoning until well blended. Pour over chopped cabbage and let stand 5 to 10 minutes for flavors to develop. Dice avocados and toss with 2 to 3 teaspoons lime juice.
5. Heat a non-stick pan over medium-high heat and cook tortillas. Turn tortillas several times until they are just starting to get firm, then fold in half to make a taco shell.
6. Spread 2-3 tablespoons of shredded beef on the bottom of each tortilla, top with a thin layer of slaw and a couple spoonfuls of avocado.
Note: This meat freezes well and can also be used to make burritos.