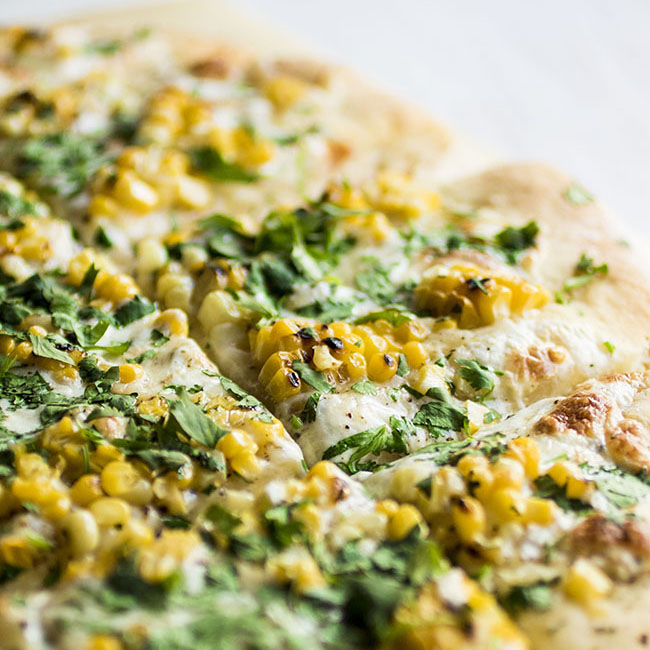 LATE SUMMER CORN & LEEK PIZZA Shallot, Scallions & Leeks Seasoning
Serves 4
16 ounces thawed pizza dough, cut in half
8 ounces fresh mozzarella pearls, divided
¼ cup water plus 3 tablespoons
½ cup Shallot, Scallions & Leeks Seasoning
2 tablespoons EVOO
½ teaspoon salt, or to taste
1 cup whole kernel corn, divided
Fresh basil
1. Pre-heat oven to 550⁰F.
2. In a small bowl combine Shallot, Scallion & Leek Seasoning with ¼ cup of water; set aside for 10 minutes to allow herbs to refresh.
3. Heat EVOO in a medium skillet over medium-high heat. Add refreshed Shallot, Scallions & Leeks and salt. Reduce heat to medium-low. Cook, stirring, 8 to 10 minutes or until seasoning has softened. Stir in 3 tablespoons water and cook, until combined.
4. Roll out one half of pizza dough on a greased baking sheet. Spread half of the Shallot, Scallion & Leek Seasoning evenly over the top of the dough. Scatter mozzarella pearls over the top and sprinkle with ½ cup of corn.
5. Bake until crust is browned, 6 to 8 minutes. Garnish with fresh basil. Repeat with remaining ingredients to make a second pizza.
Note: For a little zippy flavor sprinkle with crushed red pepper flakes or Jalapeno Salt.