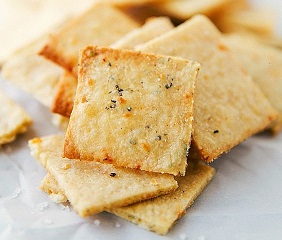 HERB CRACKERS Herb it Up! Oil
3 cup all-purpose flour
1 teaspoon kosher salt
1 cup warm water
⅓ cup Herb it Up! Oil plus extra to lightly coat formed dough
Sea or kosher salt for sprinkling crackers
1. In the bowl of an electric mixer (or in a medium mixing bowl, if mixing by hand), combine the flour and kosher salt. Slowly add the water and Herb it Up! Oil and, using a dough hook attachment (or a wooden spoon if mixing by hand), mix the dough at medium speed for about 5-7 minutes. The dough should be tacky. If the dough is too sticky or too dry, add a bit more flour or water, respectively.
2. When done mixing, shape the dough into a large ball and divide into 6-8 pieces. Roll these pieces into balls; lightly cover with additional Herb it Up! Oil and place on a clean plate. Cover with a clean dish towel or plastic wrap and let rest at room temperature for 30-45 minutes.
3. Preheat oven to 450˚F
4. Using a rolling pin, flatten one dough ball and roll out as flat and even as possible. Using a knife or pizza cutter, divide the dough evenly into cracker sized pieces. You can cut the dough into whatever shape you like at this point.
5. Arrange cracker dough pieces on cookie sheets lined with parchment paper. Poke each cracker with a fork a few times to prevent puffing. Sprinkle with kosher or sea salt and place in the oven for 5 to 8 minutes depending on the thickness. Watch the crackers very closely as they will go from perfect to burnt very quickly.