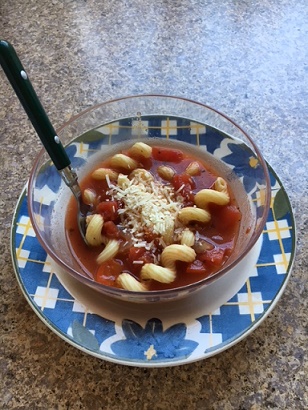 BARB'S ITALIAN SOUP Pepper Garlic SSS, Wicked Good Salt, Garlic & Rosemary Oil, Traditional Italian Seasoning
1 tablespoon Garlic & Rosemary Oil
½ medium onion, diced
½ sweet red pepper, diced
2 ribs celery, sliced thin
1 clove garlic, minced
28 ounces diced tomatoes
28 ounces crushed tomatoes
32 ounces chicken stock
1 teaspoon parsley, fresh or dried
½ teaspoon Wicked Good salt
½ teaspoon Pepper & Garlic Seasoned Sea Salt
1 teaspoon Traditional Italian Seasoning
1 to 2 cups macaroni or pasta
Parmesan Cheese
1. Add Garlic & Rosemary Oil to a soup kettle and sauté oil, red pepper, celery and garlic until translucent.
2. Add to the pot the crushed tomatoes, diced tomatoes and chicken stock. Sprinkle with parsley and add the Wicked Good Salt, Pepper & Garlic Seasoned Sea Salt and Traditional Italian Seasoning.
3. Bring pot to a slow simmer for 10 minutes. Raise the heat a bit to bring the soup to a boiling stage and add 1 to 2 cups macaroni or pasta and cook to the recommended time on the package.
4. Serve with a little Parmesan Cheese on the top of the soup.
OPTIONAL: Add a little sugar for a sweeter flavor if you find your tomatoes are too acidic.
Recipe inspired by Barb/Mike Morehead