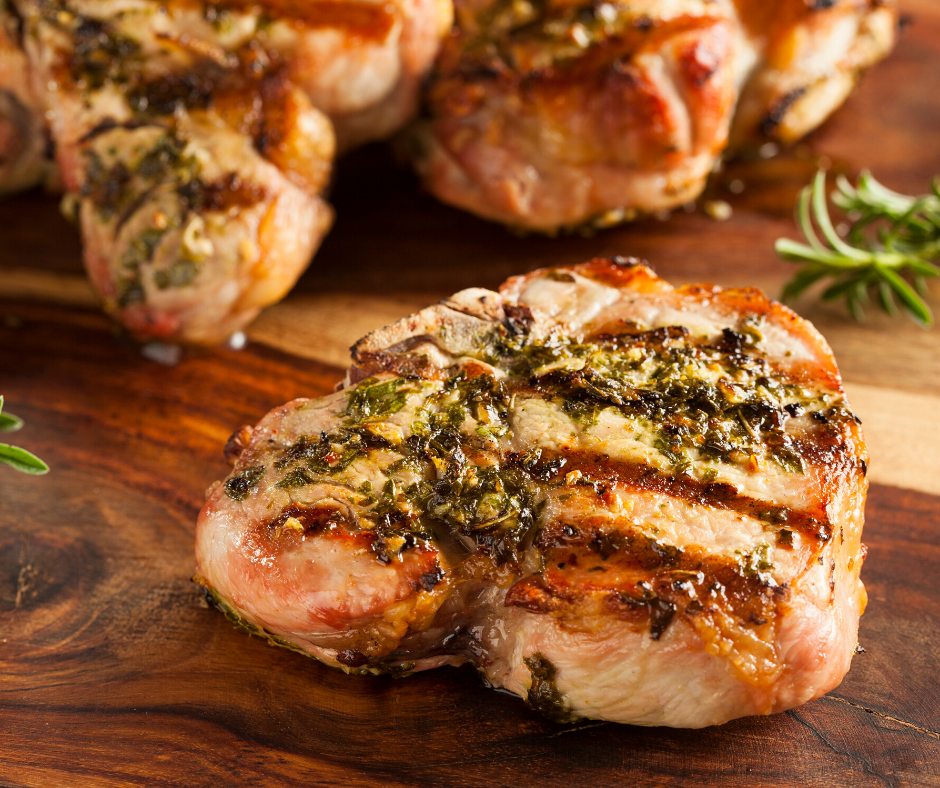 BALSAMIC GLAZED PORK CHOPS Wicked Good Pepper
4 servings
4 – ¾ inch center cut pork chops, about 2 pounds total
1 teaspoon salt
1 teaspoon Wicked Good Pepper
1 tablespoon olive oil
2 tablespoons Shallots Scallions & Leeks Seasoning
⅔ cup your favorite Raspberry Balsamic Dressing
1 ½ teaspoons sugar
¼ cup fresh raspberries
1. Pat the pork dry and sprinkle with salt and Wicked Good Pepper.
2. Heat the oil in a large heavy skillet or Dutch oven over moderately high heat until hot but not smoking, then cook the pork in 2 batches, along with Shallots Scallions & Leek Seasoning, turning the pork over once and stirring seasoning occasionally, until it is browned, about 5 minutes.
3. Transfer pork, using tongs to a plate, set aside. Add the Raspberry Balsamic Dressing and sugar to the skillet. Cook, stirring until the sugar is dissolved and the liquid is thickened slightly, about 1 minute.
4. Reduce the heat and return pork to the skillet along with any juices on the plate. Turn once or twice to coat with the vinegar sauce. Cook over moderate heat, turning over once until pork is cooked through, about 3 minutes.
5. Transfer pork to a platter and boil sauce until it has reduced and is syrupy, about 2 minutes. At the last moment, add the fresh raspberries to the sauce, stir briefly, then pour sauce over pork and serve.