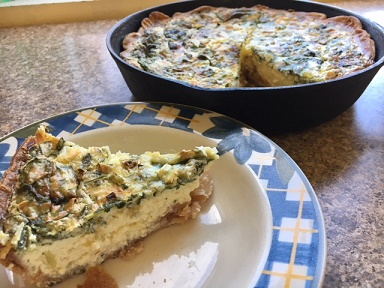 EGG PIE WITH SHALLOTS, SCALLIONS & LEEKS, Shallots, Scallions & Leeks Seasoning
Serves 6
Your favorite pie crust recipe
½ cup Shallots, Scallions & Leeks Seasoning
2 teaspoons salt
6 large eggs
1 ¼ cups heavy cream
1 cup whole milk
1 cup loosely packed baby spinach leaves
1 cup grated Gruyere or Swiss cheese
1 cup whole milk ricotta
Fresh ground black pepper to taste
1. Make your pie crust or purchase one from the dairy department. Placed into a 10 inch cast iron skillet and trim the over-hang to ½ inch. Pre-heat the oven to 350⁰F. Line the pie crust with parchment paper and fill with pie weights or dried beans. Blind bake until the crust begins to brown lightly. Remove the weights and parchment paper, transfer the skillet to a wire rack and let cool completely.
2. Reduce the oven temperature to 325⁰F. In a large bowl whisk the eggs with the cream, milk and 2 teaspoons of salt. Stir in the Shallots, Scallions & Leeks Seasoning, spinach, Gruyere and ricotta.
3. Pour the custard into the pie crust. Bake 45 to 55 minutes, rotating halfway through, until the filling is puffed and lightly browned. Transfer to a rack and let cool for at least 20 minutes. Serve the pie warm or at room temperature.
NOTE: If you do not have fresh spinach, ½ cup Lesley Elizabeth Spinach Seasoning may be substituted.