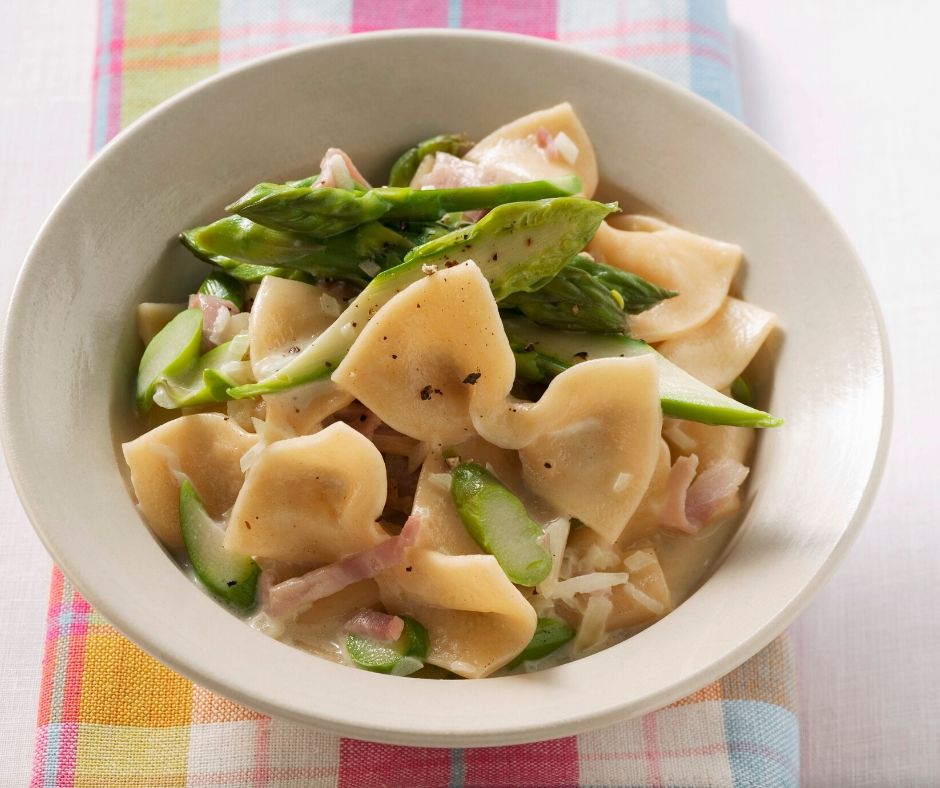 ARTICHOKE & LEMON PASTA Oh! So Garlic
Serves 4
2 ½ teaspoons salt, divided
½ pound fresh asparagus, trimmed and cut into 1 ½ inch pieces
4 cups uncooked bow tie pasta
3 tablespoons EVOO
14 ounces water-packed quartered artichoke hearts, well drained
3 tablespoons Oh! So Garlic! Seasoning
5 tablespoons water
1 cup crumbled goat cheese
1 tablespoon grated lemon peel
3 tablespoons lemon juice
⅓ cup grated Parmesan cheese
1. Combine Oh! So Garlic! Seasoning and water in a small bowl, set aside.
2. Fill a 6 quart stockpot three quarters full with water; add 2 teaspoons salt and bring to a boil. Add fresh asparagus; cook, uncovered 1 to 2 minutes or just until crisp-tender. Remove asparagus and immediately drop into ice water. Drain and pat dry.
3. In the same pot of water, cook bow tie pasta according to package directions for al dente. Drain, reserving 1 cup of water.
4. Meanwhile, in a large skillet, heat 1 tablespoon EVOO over medium-high heat. Add artichoke hearts; cook and stir 3 to 4 minutes or until lightly browned. Add Oh! So Garlic Seasoning!, (after draining any excess water), cook 1 minute longer. Add pasta.
5. Stir in asparagus, goat cheese, lemon peel & juice and the remaining salt and oil; toss to combine, adding enough reserved pasta water to coat. Heat through.
6. Serve with Parmesan cheese.