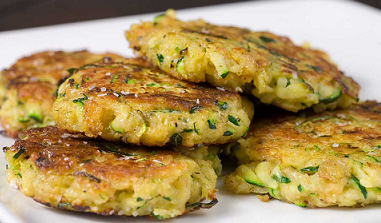 ZUCCHINI TUNA CAKES Lemony Dill Seasoning
Serves 4 to 6
2 cups grated zucchini, liquid squeezed out
9 ounces canned tuna
5 tablespoons old fashion or quick cooking oats
½ cup shredded cheese
1 large egg
1 ½ tablespoons Lemony Dill Seasoning
Fresh ground black pepper
For Sauce:
8 tablespoons Greek yogurt
3 teaspoons Lemony Dill Seasoning or to taste
1. In a medium mixing bowl, mix all of the cake ingredients until well incorporated.
2. Heat a large nonstick frying pan to medium low heat. Spray pan with nonstick spray or a small amount of oil.
3. Scoop about ½ cup of cake mix into the frying pan and flatten with the back of a spoon to about ½ inch thickness. Cook until crispy and golden brown, about 5 minutes, flip over with a spatula and let it cook the other side.
4. While cakes are cooking mix together the Greek yogurt with 3 teaspoons Lemony Dill Seasoning to make the sauce.
5. Serve zucchini cakes with a dollop of sauce.