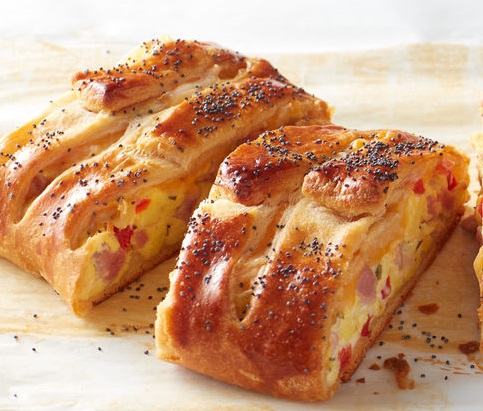 SWEET BELL PEPPER SCRAMBLED EGG BREAD Sweet Bell Pepper Seasoning
Serves 6
4 ounces thinly sliced ham, chopped
4 ounces cream cheese, softened
½ cup milk
1 egg separated
7 eggs
¼ teaspoon salt
Freshly ground black pepper, to taste
2 ½ to 3 tablespoons Sweet Bell Pepper Seasoning
1 teaspoon butter
½ cup shredded sharp cheddar cheese
2 (8 ounce) cans refrigerated crescent rolls
1. Preheat oven to 375˚F. Line baking sheet with parchment paper.
2. Unroll each tube of crescent dough, but do not separate the rectangles. Place side-by-side on prepared baking sheet with long sides touching. Press and seal seams and perforations. Arrange ham lengthwise down the center third of the rectangle.
3. Beat cream cheese and milk in a bowl. Separate one egg, placing the white aside. Stir egg yolk, remaining eggs, salt, black pepper and Sweet Bell Pepper Seasoning into cream cheese mixture.
4. Melt butter in a large skillet over medium heat; pour egg mixture into skillet and cook until just set, about 5 minutes. Remove from heat and spoon eggs over ham; sprinkle with sharp cheddar cheese.
5. Cut 1 inch wide strips towards the center to within ½ inch of filling on each long side of dough. Starting at one end, fold alternating strips at an angle across filling; pinch ends to seal and tuck under. Beat reserved egg white and brush over dough.
6. Bake in preheated oven until golden, 20 to 25 minutes.