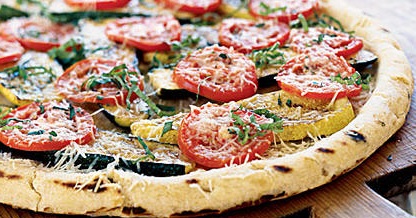 SUMMER SQUASH PIZZA Oregano Shallot Oil
4 servings (serving size: 2 slices)
¼ cup Extra Virgin Olive Oil with Shallots, Scallions & Leeks
⅛ teaspoon Garlic Pepper
1 medium zucchini, cut lengthwise into (¼ inch thick) slices
1 medium yellow squash, cut lengthwise into (¼ inch thick) slices
1 Boboli® wheat crust
2 Roma tomatoes, cut into (⅛ inch thick) slices
⅓ cup finely grated Romano cheese
2 tablespoons thinly sliced fresh basil
Cooking spray
1. Combine Oregano Shallot Oil, Garlic Pepper, zucchini & yellow squash slices in a gallon size zip lock bag, tossing gently to coat.
2. Place squash mixture on a preheated gas or charcoal grill, grill for two minutes on each side.
3. Lightly coat pizza crust with cooking spray; grill one minute on each side or until lightly toasted. Arrange zucchini and squash over crust. Arrange tomatoes over squash; sprinkle with cheese. Grill 5 minutes or until thoroughly heated. Remove from grill; sprinkle with fresh basil.