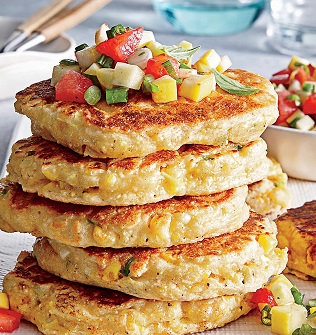 SUMMER CORN CAKES (w) FRESH SALSA Jalapeno Cilantro Seasoning
Makes 8 cakes
¾ cup whole-wheat flour
½ yellow cornmeal
2 teaspoons baking powder
¾ teaspoon salt, divided
½ teaspoon freshly ground black pepper, divided
1 cup sour cream
2 large eggs
2 tablespoons Avocado Oil
1 ¼ cups fresh corn kernels, (about 2 ears)
2 tablespoons Jalapeno Cilantro Seasoning, or more
½ cup diced yellow squash
¼ cup chopped green onions
¼ cup chopped fresh basil
1 ½ teaspoons rice vinegar
1 medium tomato, chopped
1. Combine flour, cornmeal, baking powder, ½ teaspoon salt, and ¼ teaspoon pepper in a large bowl.
2. Combine sour cream, eggs, Jalapeno Cilantro Seasoning and 1 tablespoon Sunflower Oil in a bowl, stirring until smooth. Add sour cream mixture and corn to the flour mixture; stir just until combined.
3. Heat a large nonstick griddle over medium high heat.
4. Divide corn mixture into 8 equal portions (about 1/3 cup each); shape into patties on the griddle. Cook 3 to 4 minutes per side or until cooked through.
5. Combine squash, green onions, basil, vinegar, tomato, remaining oil, salt and pepper in a small bowl; toss.
6. Place corn cakes on plater and top with salsa mixture.
Note: This recipe has a mild amount of heat, add additional amounts of Jalapeno Cilantro for a spicier flavor.