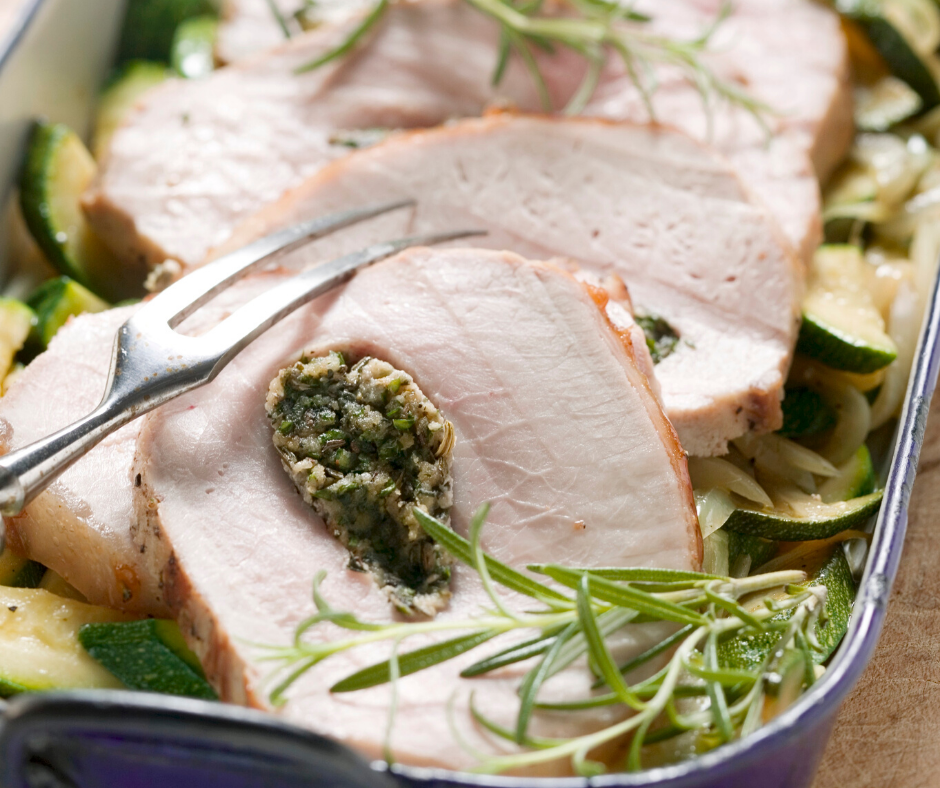 STUFFED PORK LOIN Shallot, Scallions & Leeks Seasoning
Serves 6 to 8
6 slices of bacon, chopped
2 apples, peeled & chopped
2 Tablespoons Shallot, Scallions & Leeks Seasoning
3 cloves fresh garlic, minced
1 tablespoon fresh rosemary, chopped
¼ cup chopped pecans
½ teaspoon salt
½ teaspoon freshly ground black pepper
¼ cup Dijon mustard
½ pork loin, about 3 to 4 pounds
1. Pre-heat oven to 325⁰F.
2. In a large skillet, cook the bacon. Drain all but ½ tablespoon of fat. Add apples and Shallot, Scallions & Leeks to the pan and cook until softened, about 4 to 5 minutes. Add garlic and cook until fragrant, about 2 minutes, then stir in the rosemary and pecans.
3. Butterfly the pork and season with the salt and pepper. Spread the filling all across the pork loin. Roll up the pork loin and secure tightly with cooking twine.
4. Place loin in roasting pan and rub with Dijon mustard.
5. Bake until internal temperature reaches 155⁰F, about 1 hour and 25 minutes, basting with pan juices. Let rest 15 minutes before slicing.