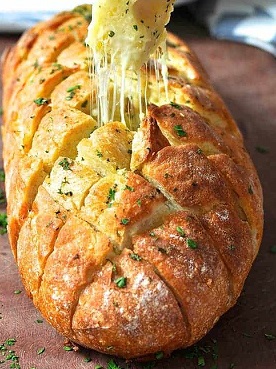 STUFFED ITALIAN BREAD Garlic & Green Herb Oil
Serves 6
1 loaf Italian style bread
½ stick butter, melted
¼ cup Herb it Up! Oil
2 tablespoons Oh! so Garlic! Seasoning
1 tablespoon Dijon mustard
1 tablespoon poppy seeds
3 tablespoons fresh parsley, chopped
8 ounces shredded Italian blend cheese, (any combination will work)
1. Preheat oven to 350˚F.
2. Mix the melted butter, Garlic & Green Herb Oil, Oh so Garlic Seasoning, Dijon mustard, poppy seed and parsley in a small bowl.
3. Cut the bread into cubes with X slices without cutting all the way through the bottom crust.
4. Pour butter, oil and herbs mixture carefully into those X cracks using a small spoon and over the top of the bread. Fill those delicious cracks with the cheese.
5. Set the entire loaf on a sheet of parchment paper and the wrap it in aluminum foil, sealing the side properly and bake for 20 to 25 minutes. Remove from the oven and unwrap. Bake for another 15 minutes or until the cheese is melted and gooey.