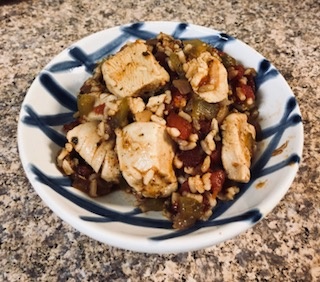 SPICY CHICKEN & RICE Cajun Seasoning
Serves 4
1 tablespoon EVOO
1 medium red onion, chopped
½ medium green pepper, chopped
1 clove garlic, minced
2 tablespoons Cajun Seasoning
½ teaspoon cumin
⅓ cup uncooked white rice
15 ounces petite diced tomatoes
½ cup chicken broth
½ pound boneless, skinless chicken breast
4 green olives (optional)
1. Cut chicken into small cubes.
2. Heat EVOO in a medium size nonstick skillet over medium high heat. Add chicken to skillet stirring frequently until almost cooked.
3. Add onion, green pepper and garlic; continue stirring until vegetables begin to soften. Stir in Cajun Seasoning and cumin; cook 1 minute. Add the rice and cook, stirring constantly, until the grains are coated, about 1 minute.
4. Add the tomatoes, olives, and chicken broth; bring to a boil. Reduce the heat and simmer, covered, until the rice is tender about 20 minutes.