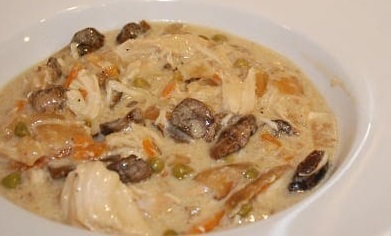 SLOW COOKER CHICKEN STEW Leek & Garlic Seasoning
1 ½ pounds boneless skinless chicken thighs, cut into 1 inch pieces
¼ cup flour
3 tablespoons Leek & Garlic Seasoning
8 ounces fresh mushrooms, sliced
2 cups baby carrots
15 ounces chicken broth
1 cup frozen peas, thawed & drained
4 ounces whipped cream cheese
1. Place flour in a re-sealable plastic bag, add chicken pieces and shake to coat. Place in slow cooker.
2. Add mushrooms, Leek & Garlic Seasoning, carrots and broth. Stir to combine.
3. Cook on low heat 6 to 8 hours. Stir in peas and cream cheese; cook, covered for 30 minutes.