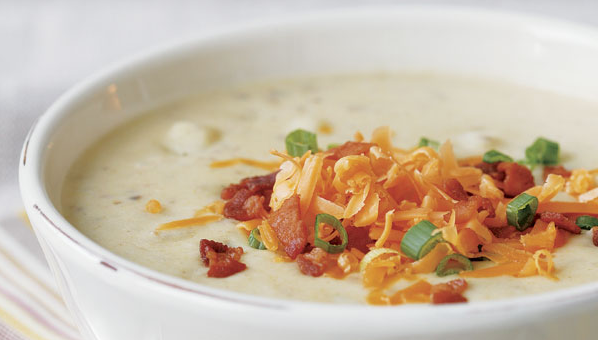 BAKED POTATO SOUP Leek & Garlic Seasoning
Serves 4
1 tablespoon butter
¼ cup celery, chopped
2 tablespoons Leek & Garlic Seasoning
15 ounces chicken broth
1 ¼ cups milk
2 baking potatoes, baked, cut into ½ inch pieces
⅛ teaspoon freshly ground black pepper
8 slices bacon, cooked & crumbled, divided
¾ cup shredded mild Cheddar cheese, divided
¼ cup sour cream
1. Melt butter in a large saucepan on medium heat. Add celery and Leek & Garlic Seasoning; cook until celery is crisp-tender, about 5 minutes.
2. Add chicken broth, milk, pepper and potatoes, bring just to a boil, stirring constantly. Lightly crush potatoes with the back of a spoon. Simmer on medium-low heat 5 minutes, stirring frequently.
3. Reserve 1 tablespoon bacon and 1 tablespoon cheese. Add remaining bacon and cheese to soup; cook 5 minutes or until cheese is melted, stirring constantly.
4. Serve topped with reserved bacon, cheese and sour cream.