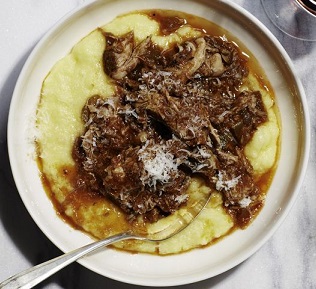 SLOW COOKED ITALIAN PORK (w) POLENTA Traditional Italian Seasoning
Serves 4 to 6
1 tablespoon olive oil
2 ½ pounds lean pork roast
½ teaspoon salt, divided
¾ teaspoon fresh ground black pepper, divided
2 cups sliced, yellow onion
1 cup sliced, yellow bell pepper
2 tablespoon Oh! so Garlic Seasoning, or more
2 (14.5 ounce) cans diced tomatoes, drained
2 tablespoons Traditional Italian Seasoning
1 teaspoon balsamic vinegar
2 teaspoons Worcestershire sauce
2 cups water
1 cup milk
¾ cup instant polenta
1 tablespoon grated Parmesan cheese
1. Heat a large skillet over medium high heat. Add oil and swirl to coat. Sprinkle pork with ¼ teaspoon salt and ¼ teaspoon pepper. Add pork to pan and cook 10 minutes, turning to brown all sides. Transfer pork to a slow cooker. Add onion and bell pepper, sauté about 5 minutes or until tender. Transfer mixture to slow cooker.
2. Add remaining ¼ teaspoon salt, ¼ teaspoon pepper, tomatoes, Oh! so Garlic Seasoning and Traditional Italian Seasoning. Cover and cook on low for 7 ½ hours. Add vinegar and Worcestershire sauce. Cook, uncovered for 30 minutes; turn off heat. Shred pork with 2 forks.
3. Combine water and milk in a saucepan over medium heat; bring to a boil. Reduce heat to low; add polenta, stirring with a whisk. Cook 4 minutes, stirring frequently. Remove from heat; stir in Parmesan cheese and remaining ¼ teaspoon pepper.
4. Serve pork over polenta in shallow bowls. Salt and pepper to taste.