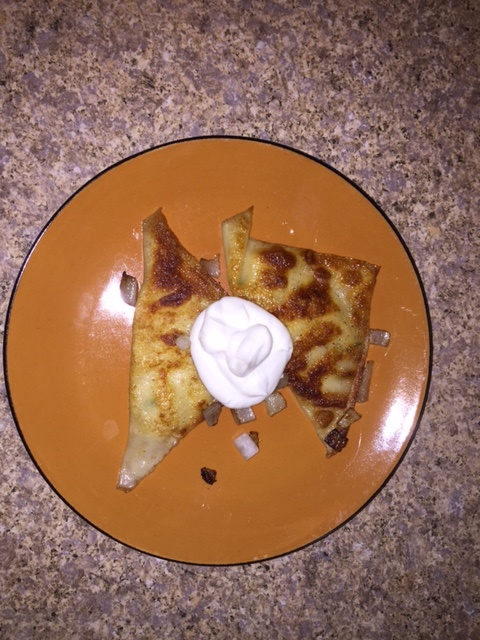 QUICK & EASY PIEROGI Leek & Garlic Seasoning
Serves 9
2 cups cooled mashed potatoes
8 ounces cream cheese, softened
5 tablespoons Leek & Garlic Seasoning, divided
¼ teaspoon Seasoned Pepper
36 won ton wrappers
1 egg white, lightly beaten
4 tablespoons butter, divided
1 cup sour cream
2 tablespoons warm water
¼ cup chopped onion
1. Place 2 tablespoons Leek & Garlic Seasoning in a small bowl and mix in 2 tablespoons warm water, set aside.
2. Bring a large saucepan of water to boil. Meanwhile mix mashed potatoes, cream cheese, Seasoned Pepper and 3 tablespoons Leek & Garlic Seasoning.
3. Working in groups of 4, lay out won ton wrappers and brush with egg white. Spoon 1 tablespoon potato mixture onto center of each wrapper; fold in half diagonally. Press edges together to seal. Add, in batches of 4 to boiling water; cook 2 to 3 minutes or until pierogis float to surface. Drain in colander.
4. Melt 1 tablespoon butter in a large nonstick skillet on medium high heat. Add about 12 pierogis with some of the onion, cook 2 to 3 minutes on each side or until golden brown on both sides. Remove from skillet; cover to keep warm. Repeat with remaining butter and pierogis. Serve with sour cream.
NOTE: Shallots Scallions & Leeks, Sweet Bell Pepper, Spinach or Garden Vegetable Seasonings can be substituted for the Leek & Garlic Seasoning.