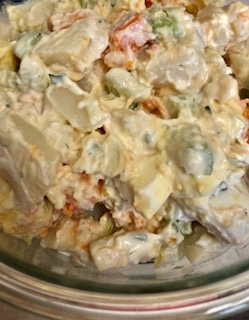 OH! SO GARLIC POTATO SALAD Oh! So Garlic Seasoning
Serves 12
3 tablespoons Oh! So Garlic Seasoning, or more
2 tablespoons water
2 pounds small red potatoes, quartered
1 pound sweet potatoes, peeled and cubed
2 tablespoons cider vinegar, divided
1 ½ teaspoons salt, divided
6 large eggs, hard cooked
1 cup mayonnaise
½ cup sour cream
1 tablespoon Dijon mustard
½ teaspoon paprika
¼ teaspoon freshly ground black pepper
1 medium sweet onion, finely chopped
2 ribs celery, finely chopped
2 tablespoons fresh parsley, minced
1 Place Oh! So Garlic Seasoning in a small cup with 2 tablespoons water, stir and set aside.
2 Place potatoes, 1 tablespoon vinegar and 1 teaspoon salt in a large Dutch oven; add water to cover. Bring to a boil. Reduce heat and simmer until the potatoes are just tender, 10-12 minutes. Drain.
3 Chop five eggs. In a large bowl, whisk together mayonnaise, sour cream, mustard, paprika, pepper, Oh! So Garlic Seasoning and remaining salt & vinegar. Stir in the potatoes, chopped eggs, onion and celery. Refrigerate 4 hours or until cold.
4 Just before serving, slice remaining egg. Top salad with sliced egg; sprinkle with fresh parsley and, if desired, additional paprika.