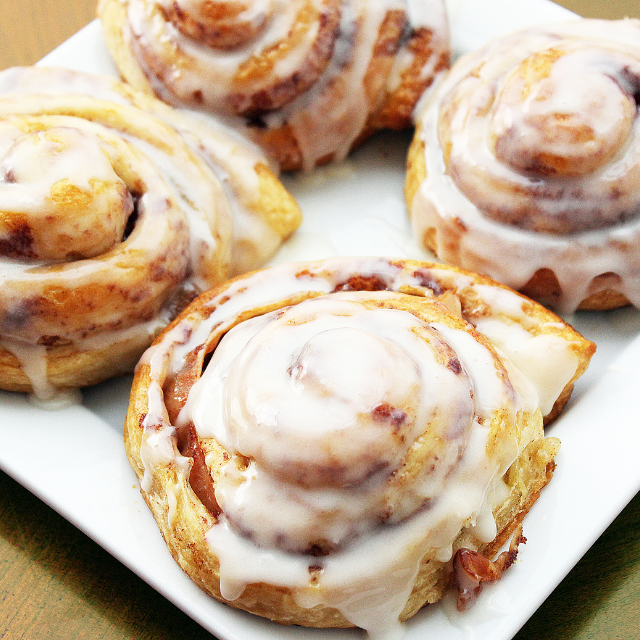 MAPLE BACON CINNAMON ROLLS Maple Bacon Sugar
Makes 9 Rolls
For Dough:
1 can sheet style Crescent Rolls
For Filling:
2 tablespoons butter melted
1 tablespoon cinnamon
1/3 cup brown sugar
1/3 cup Maple Bacon Sugar
1 tablespoon maple syrup
¼ teaspoon vanilla
MAPLE GLAZE:
3 tablespoons butter softened
1 cup powdered sugar
1 tablespoon maple syrup
1/8 teaspoon maple extract
1/2 teaspoon vanilla extract
1. Preheat oven to 350°F.
2. Add all filling ingredients to a small bowl and stir with a fork. It helps if the butter is soft! Set aside until ready to use.
3. Roll dough it into a rectangle (about 10×14 inches). You may need to use a little flour when rolling, that's okay. Spread the filling evenly in the center. Starting at a short end, roll the dough tightly. Slice into thirds and then thirds again, for a total of nine cinnamon rolls. Place in a 9×9" baking dish that has been sprayed with cooking spray. (You can also slice them into 12 pieces and use a 9×13″ pan for smaller rolls.)
4. Bake about 20-25 minutes until golden.
5. While the rolls are baking, make the frosting. Beat together butter and powdered sugar. Mix in maple syrup and both extracts until smooth. Spread on warm cinnamon rolls. Sprinkle with extra bacon, if desired.