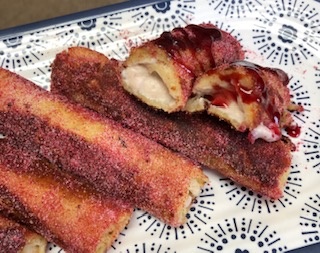 FRENCH TOAST ROLL-UPS Cranberry Pomegranate Sugar
Serves 6
12 slices white sandwich bread
2 eggs
3 tablespoons milk
3 tablespoons butter
Cranberry Pomegranate Sugar
8 ounce brick of cream cheese
1. Trim the crust from the bread and flatten out with a rolling pin.
2. Place 1 to 2 teaspoons of cream cheese an inch from one end of the bread, spread out in a strip. Roll the bread up and repeat with remaining bread slices.
3. In a shallow bowl whisk the eggs and milk until well combined.
4. Place about half a jar of the Cranberry Pomegranate Sugar in separate bowl.
5. In a skillet set over medium heat, melt one tablespoon of butter.
6. Add four bread rolls to the egg mixture turning to coat all sides. Place them in the skillet seam side down. Cook until golden brown, turning to cook and brown all sides.
7. Place the hot rolls into the Cranberry Pomegranate Sugar and roll until completely covered in sugar. Repeat process with remaining rolls.
Note: Any of our flavored sugars can be used for this recipe!