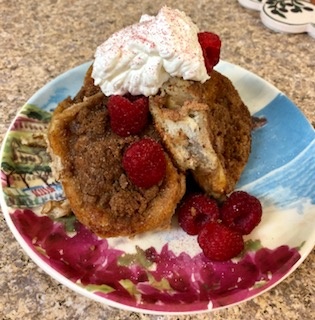 BAKED FRENCH TOAST Cranberry Pomegranate Sugar
Serves 8
8 ounces of day-old French bread
4 large eggs
2 tablespoons Cranberry Pomegranate Sugar
1 tablespoon brown sugar
2 teaspoons vanilla extract
1 teaspoon maple extract
¼ teaspoon kosher salt
2 cups whole milk
½ cup whipping cream
TOPPING:
¼ cup all-purpose flour
3 tablespoons brown sugar
3 tablespoons unsalted butter, cut into ¼ inch cubes
1 teaspoon ground cinnamon
Whipping cream
Fresh raspberries or blueberries
1. Cut bread into 1 inch thick slices. Arrange in a single layer in a greased 9×13 inch baking dish. Lightly beat next six ingredients; stir in milk and cream. Pour the egg mixture over the bread, turning once to coat. Refrigerate, covered, overnight.
2. Preheat oven to 375⁰F. Turn bread again to coat.
3. For topping, combine next four ingredients. Sprinkle flour mixture over bread. Bake, uncovered, until a knife inserted in center comes out clean and the topping is golden brown, 40 to 45 minutes. Let stand for 10 minutes before cutting.
4. Top with berries and sprinkle with Cranberry Pomegranate Sugar. Serve with whipped cream.