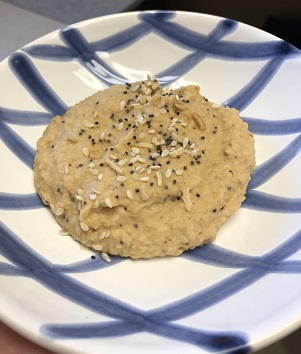 EVERYTHING BAGEL HUMMUS Everything Bagel
2- 15-ounce cans chickpeas
2-4 cloves garlic peeled
2 tablespoons tahini (or 4 tablespoons sesame seeds)
2-4 tablespoons fresh lemon juice
1/4-1 teaspoon cumin
1/4 teaspoon smoked paprika
1/8-1/2 teaspoon chipotle chili powder or cayenne pepper
2 tablespoons Everything Bagel Seasoning
Salt to taste
1. Drain one of the cans of chickpeas. Dump both cans (including liquid from one) into the blender or food processor. Place all remaining ingredients except salt in the blender in the order listed, using the smaller amounts. Start the machine on low and increase speed to high. If using food processor use the puree method. If the mixture is too thick, add water a tablespoon at a time. Turn up to the highest speed and blend for a few seconds until hummus is completely smooth.
2. Stop blender or food processor and taste the hummus. Add additional seasonings and salt to taste and blend briefly to combine.
3. Sprinkle additional Everything Bagel Seasoning onto the top of the finished hummus for added flavor. Store hummus in a sealed container in the refrigerator. It's best after it's had a chance to rest for at least an hour, but use within a week.