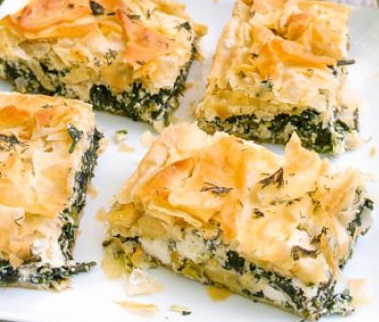 DEEP DISH SPINACH PIE Sweet Bell Pepper Seasoning
Serves 12
1 package (17.3 ounces) frozen puff pastry (2 sheets), thawed
6 eggs, beaten
1 cup Ricotta cheese
2 packages (10 ounces each) frozen chopped spinach, thawed and well drained
4 slices cooked bacon, crumbled
1 ½ cups shredded cheddar cheese
Pinch of cayenne pepper
8 tablespoons Sweet Bell Pepper Seasoning
¼ cup water
1. Preheat oven to 400⁰F.
2. In a small bowl combine Sweet Bell Pepper Seasoning and water, set aside.
3. Unfold pastry sheets. Roll out 1 sheet to 11 inch square; set aside. Roll out remaining sheet to 12 inch square; use to line bottom and side of 9 inch spring form pan sprayed with cooking spray.
4. Reserve 1 tablespoon eggs. Mix remaining eggs with ricotta, cayenne pepper and spinach until well incorporated. Layer half each of the bacon, cheddar cheese, ricotta mixture and Sweet Bell Pepper Seasoning mix in crust. Repeat layers.
5. Cover with remaining pastry sheet; fold under edges of pastry, then tuck inside pan. Brush pastry with reserved egg. Cut slits on top crust.
6. Bake 45 to 55 minutes or until golden brown. Cool 10 minutes. Run a small knife around edge of pan to loosen crust before removing rim of pan.