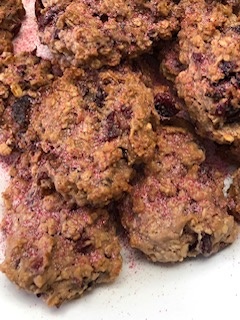 CRANBERRY OATMEAL COOKIES Cranberry Pomegranate Sugar
Makes 36 cookies
½ cup butter, softened
½ cup unsweetened applesauce
¾ cup brown sugar
1 jar Cranberry Pomegranate Sugar (approximately ¾ cup)
2 eggs
1 ½ teaspoons vanilla
1 ¼ cup flour
½ teaspoon baking soda
1 teaspoon salt
3 cups rolled oats
6 ounces dried cranberries, chopped
1. Preheat oven to 350˚F.
2. Place chopped cranberries in a small bowl and cover with water, set aside.
3. Mix together butter, applesauce, sugars, eggs and vanilla well until combined. Add flour, soda and salt. Fold in rolled oats and drained cranberries.
4. Drop by tablespoon onto cookie sheet. Bake 10 to 12 minutes or until tops are browned. Place on cooling rack.