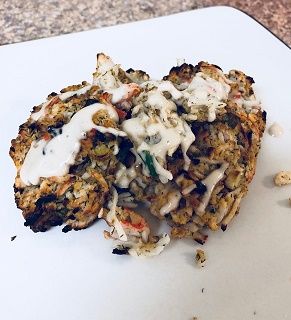 CRAB CAKES – Lemony Dill
Makes about 8 cakes
1¼ cups mayonnaise
Juice of one lemon
1 tablespoon Worcestershire sauce
2 teaspoons hot sauce
1½ pounds crabmeat, picked over for shells
1¼ cup crushed saltines (1 sleeve)
4 scallions, minced
2 tablespoons Lemony Dill Seasoning
4 tablespoons olive oil
1. Combine mayonnaise, lemon juice, Worcestershire, hot sauce and Lemony Dill Seasoning in a large bowl. Reserve ½ cup sauce for serving.
2. Crush saltines until most have turned to dust, leaving a few pieces no bigger than a pebble. Fold crabmeat, saltines, and scallions into remaining sauce until combined.
3. Form crabmeat mixture into eight 1-inch thick patties.
4. Heat 2 tablespoons olive oil in large nonstick skillet over medium-high heat until just smoking. Add half of crab cakes and cook until golden brown, 2½ to 3 minutes per side. Transfer to platter and tent with foil. Repeat with remaining oil and crab cakes. Serve with reserved sauce.