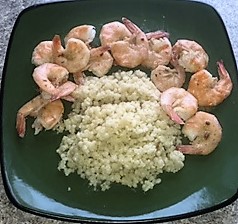 GARLIC CITRUS SHRIMPLemony Dill Seasoning
Serves 3 -4 as an appetizer, 2 as a main course.
1 pound large, raw shrimp, peeled, with tails on, and patted dry
8 cloves garlic
2 tablespoons Lemony Dill Seasoning
1 teaspoon Seasoned Pepper
2 tablespoons Worcestershire sauce
¾-cup dark beer
4 tablespoons butter, divided
Salt to taste
Juice of ½ lemon or to taste
1. In a large bowl, combine the shrimp with all the ingredients, except the butter. Cover and chill for at least 2 hours.
2. Heat a 12" skillet. Add 2 tablespoons of the butter, the shrimp and marinade. Stirring constantly, heat to cook the shrimp through, about 3 to 4 minutes. Do not overcook.
3. Remove the shrimp from the pan, boil to reduce the juices to 1/3 cup. Stir in the remaining butter. Work quickly, removing the pan from the heat before the butter is completely melted. Pour over the shrimp and serve at once with crusty bread.
For a main course, serve over rice or pasta.
(You can substitute coarse ground black pepper for the Seasoned Pepper. You can also use white wine instead of beer.)