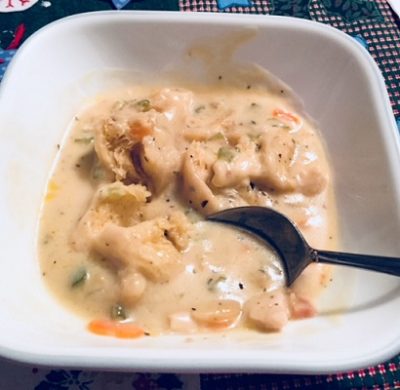 CHICKEN DUMPLING SOUP Wicked Good Rub
Serves 4
1 pound boneless skinless chicken breasts, cut into 1 ½ inch cubes
44 ounces prepared chicken broth
2 teaspoons oil
3 cups water
4 medium carrots, sliced
1 cup onion, chopped
2 ribs celery, chopped
1 tablespoon Wicked Good Rub
Salt & pepper to taste
DUMPLINGS:
3 egg whites
½ cup 1% cottage cheese
2 tablespoons water
¼ teaspoon salt
1 cup all-purpose flour
1. In a large skillet drizzle oil or (spray pan with cooking spray), add chicken cubes, stir until they begin to brown.
2. Add the broth, water, vegetables, and Wicked Good Rub. Bring to a boil. Reduce heat and simmer uncovered for 30 minutes.
3. In a small mixing bowl, beat the egg whites and cottage cheese. Add water and salt. Stir in the flour, mix well.
4. Bring soup to a boil. Drop dumplings by tablespoonfuls into the boiling soup. Reduce heat; cover and simmer for 15 minutes or until a toothpick inserted in dumplings comes out clean.