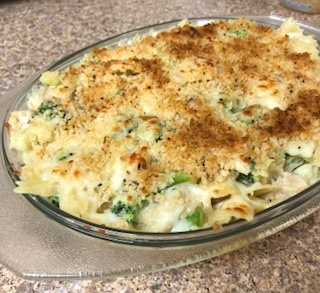 CHICKEN & BROCCOLI PASTA Detroit Steak Rub
Serves 6 to 8
8 ounces farfalle pasta
1 rotisserie chicken, shredded, about 3 cups
16 ounces frozen broccoli, thawed
1 cup half & half
1 stick unsalted butter, plus 2 tablespoons, divided
1 cup heavy cream
2 ½ teaspoons Detroit Steak Rub, divided
2 ½ cups freshly grated Parmesan cheese, divided
1 cup plain panko bread crumbs
1. Preheat oven to 375⁰F. Prepare farfalle pasta according to package directions.
2. In a medium sauce pan, warm 1 stick unsalted butter and heavy cream, until butter is melted. Season with 1 teaspoon Detroit Steak Rub. Add 2 cups Parmesan cheese and stir until melted. Stir in 1 cup half & half.
3. Combine farfalle, shredded chicken, broccoli and sauce mixture in a large bowl. Transfer to a greased 2 quart baking dish.
4. In a small dish, combine Panko bread crumbs, 2 tablespoons butter(melted), ½ cup Parmesan cheese and 1 ½ teaspoons Detroit Steak Rub. Sprinkle over casserole. Bake uncovered 25 to 30 minutes or until bubbly and lightly browned. (If it begins to brown too quickly, cover loosely with foil).