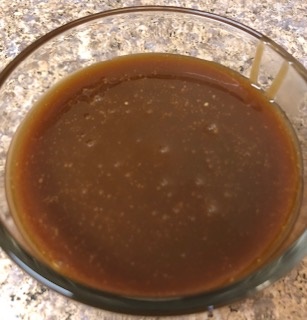 BALSAMIC CARAMEL SAUCE Aged Balsamic Vinegar
½ cup sugar
½ cup heavy cream
¼ cup water
1 tablespoon Aged Balsamic Vinegar
1 tablespoon unsalted butter, room temperature
1. Combine sugar and water in a medium, heavy bottomed sauce pan. Bring to a boil over high heat. Meanwhile, bring the cream to a simmer in a separate small saucepan and keep warm. Continue cooking until sugar mixture is a dark amber color, about 6 – 8 minutes. Do not let the mixture burn.
2. Remove from heat and add the cream slowly; mixture will bubble up furiously and settle down. Stir to combine. Add in the Aged Balsamic Vinegar and stir to combine. Add the butter and stir until melted and incorporated.
3. Remove from heat and let cool to room temperature before using.