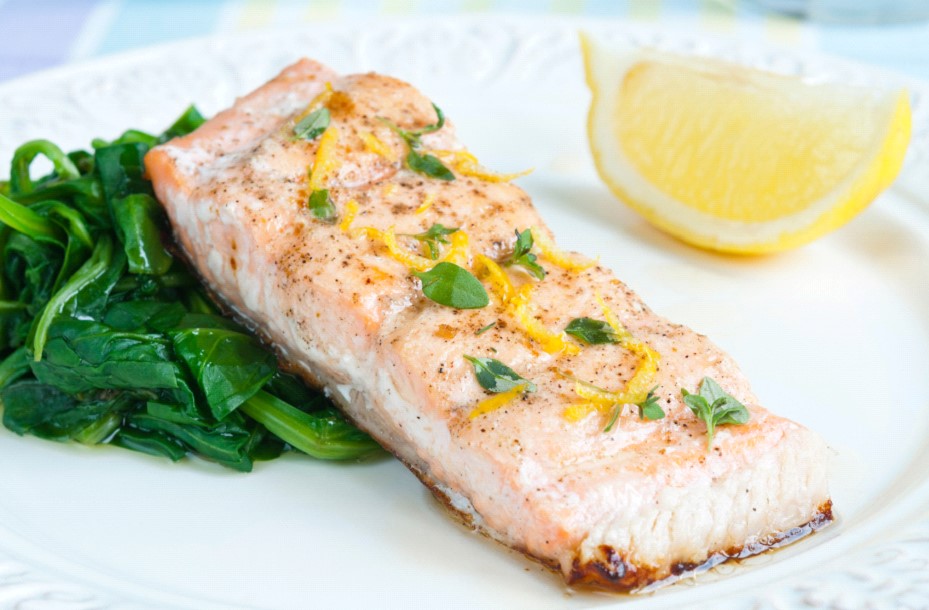 Another delicious Lesley Elizabeth recipe!
BAKED SALMON WITH SPINACH, Shallots Scallions & Leeks
6 Servings Oven 450˚F
1/2 cup plus 2 tablespoons Shallots, Scallions & Leeks Dipping Oil divided (be sure to shake the bottle well to incorporate the seasonings, before pouring the oil)
6 salmon fillets, about 6 ounces each
2 x 2 Lb pack of baby spinach leaves
¼ cup fresh scallions, roughly chopped
½ teaspoon salt, or to taste
6 thin slices lemon
Arrange the salmon on a sided baking dish and pour the ½ cup of Shallots, Scallions & Leeks Oil over them. Leave to marinate for at least 1 hour and up to 8 hours, refrigerated.
Preheat the oven to 450˚F. Place the baking sheet in the oven and bake until salmon is cooked through, about 12 minutes.
Meanwhile, heat the remaining 2 tablespoons Shallots, Scallions & Leeks Oil in a large pan, add the spinach, scallions and salt to taste. Sauté over moderate heat, about 2 minutes, tossing occasionally using tongs. Remove from heat and keep warm.
To serve, divide the spinach between 6 warmed plates, place a salmon filet on each plate and decorate with lemon slices.